Bulk SMS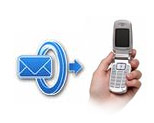 Dynalogic SMS offers our customers access to a secure, dependable, high capacity messaging platform. This web-based product offers bulk SMS delivery, address book merge functionality, bulk imports of contacts and many advanced sending features. The standard SMS contains 160 characters. SMS credits are purchased in advance. SMS Text Messaging provides you with a unique method of contacting individuals wherever they are, right to their mobile phone. SMS Text Messaging can be particularly effective when you are contacting members of a club, sales force, event attendees etc. SMS Text Messaging can get a simple message straight through to every person, quickly and efficiently.

The desktop application will allow you to:
Send bulk & single SMS.
View address book, delete number, add numbers, import numbers, add groups, delete groups.
A history page.
Send customer SMS e.g. Hi <first name>, <last Name> how you doing?
You owe us <value, word>
Contact us page, change details for each re-seller.
Obviously all the functions will be explained in full on the application.
The software will also allow you to load your own logos and contact details.

Features
We can send out high volumes of SMS messages quickly and reliably to all South African networks and also. Import your list of number and compose your message or alternatively you can import a list of numbers with a corresponding SMS messages and add a personal touch to your content.

Scheduled sending
You can also schedule the send time for SMS messages, getting information to your customers at the right time or never missing a birthday. Schedule SMS messages up to 1 year in advance.

The Desktop Software will be free of Charge
The Web Interface will be called smsinabox.co.za and will be free of charge.

Contact us for more info
Latest Deals
Please call us on 033 330 3005 or email sales@dynalogic.co.za for the latest specials.